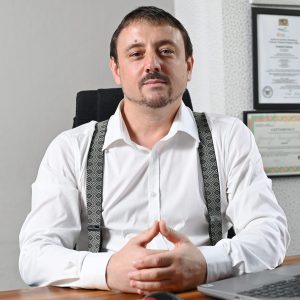 TSVETOMIR KALCHEV
Managing partner
MAGISTERIUM Ltd
Engineer Tsvetomir Kalchev is a Master of Natural Sciences from the University of Mining and Geology "St. Ivan Rilski", Sofia. He had prepared his Master's degree as part of his undergraduate specialization at Mountain University of Leoben, Austria, funded by the Socrates-Erasmus program. He completed a Master's course in European Funds Management, organized by the European Academy of Taxes, Economics and Law in Berlin, Germany.
He is currently a managing partner of MAGISTERIUM Ltd. He was a State Expert in the Tender and Evaluation Department, EU Environmental Funds Directorate, Ministry of Environment and Water. Before that he has been a National Reference Center for Waste, Waste and Sustainable Consumption and Production, Waste and Resources for Bulgaria to the European Environment Agency. He started his professional career as expert in the Waste Department, Environmental Monitoring Directorate at the Executive Environment Agency, Bulgaria.
He has over 17 years of practical professional experience in the field of environment, preparation, control and implementation of project proposals. He has participated in numerous projects in the field of waste and resource management, environmental protection, air quality, information systems, energy efficiency measures, improving competitiveness, research and preparation of strategic and regulatory documents and programs, preparation of permits and reporting documents under the Environmental Protection Act, the Waste Management Act, the Climate Limitation Change Act, etc.
He has experience in the Operational Program "Environment", the Program for Interregional Cooperation INTERREG Europe of the European Union, OP "Innovation and Competitiveness", OP "Good Governance", Financial Mechanism of the European Economic Area, Matra-flex Program, TAIEX at the General Directorate for Enlargement of the European Commission, Socrates-Erasmus and others.