The results and the effect after the public commissioning of the platform for circular economy CEMIS.BG were officially presented
The results and the achieved effect after the public commissioning of CEMIS were presented at a public event in the National Press Club BTA. This is the first and only open platform that provides informed choices about the opportunities and actions leading to reducing waste and extending the life of household products. Its official publication on the Internet took place on September 30, 2021 and since then it has become publicly available to all interested in applying the models of circular economy.
At the BTA event, the founders of CEMIS presented data on the number of users it has reached since its official commissioning, their activity and interaction with them. The project manager, Eng. Tsvetomir Kalchev, shared information about the expansion of the platform and inform that only two months after Sofia, the municipalities of Vratsa and Nikopol joined it.
In less than 3 months, the information from the platform reached over 100,000 users, and over 8,000 of them took advantage of the data and the opportunities it offers.
The first promotional video was released in December and was viewed more than 10,000 times in less than a week.
The specialist in information and communication technologies, Eng. Georgi Zashev, spoke about the new functionalities of CEMIS, the possibility for feedback and the growing role of users and interaction with it. Eng. Dimitrinka Kalcheva told about the enrichment of the platform with new content and about the section intended for children and youth.
"The section "For children and young people" is designed specifically for children of school and preschool age. The section will contain interesting and educational information, games and environmental challenges, which aim to provide them with accessible and understandable information so that from an early age they understand the importance of separate waste collection, recycling and responsible use of resources. Our goal is to motivate children to be leaders in the change to a circular economy", said the creators of the platform.
Watch the whole event here: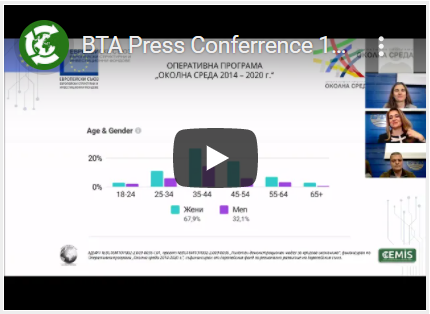 The platform was developed under project № BG16M1OP002-2.009-0036 "Pilot demonstration model for circular economy", funded by the Operational Program "Environment 2014-2020", co-financed by the European Regional Development Fund of the EU with a beneficiary MAGISTERIUM LTD.