INVITATION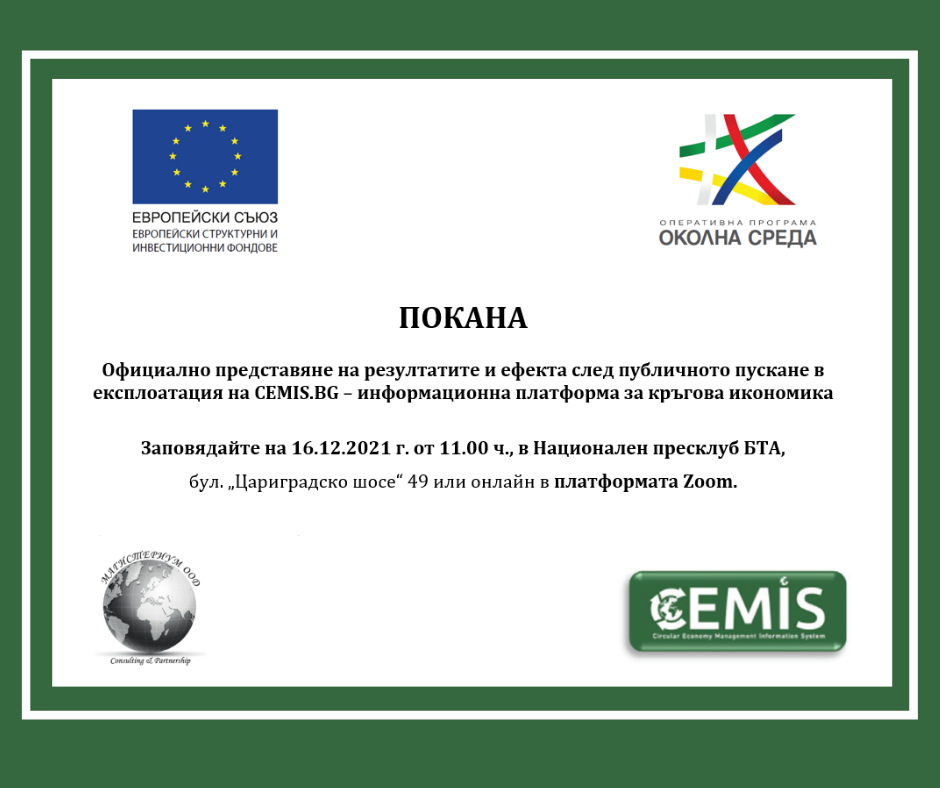 Official presentation of the results and the effect after the public commissioning of CEMIS.BG –
Circular Economy Information Platform, developed under project № BG16M1OP002-2.009-0036 "Pilot Demonstration Model for Circular Economy", funded by the Operational Program "Environment 2014-2020", co-financed by the European Regional Development Fund of the EU.
Dear ladies and gentlemen,
We are pleased to invite you to the official event to present the results and the effect after the public launch of CEMIS.BG – information platform for circular economy. The results and the effect will be presented at the event two months after the publication of the platform in the public space. The project team will reveal information about future plans for the expansion of the platform with new data and functionality, the inclusion of new municipalities in it and the new proposals for partnerships.
Participants:
Eng. Tsvetomir Kalchev – project manager;
Eng. Dimitrinka Kalcheva – financial manager;
Eng. Georgi Zashev – specialist "Information and Communication Technologies";
Moderator of the event: Elitsa Hristova – information and communication expert.
The event will take place on December 16, 2021 at 11:00 am in the National Press Club BTA, 49 Tsarigradsko Shosse Blvd. and online on the Zoom platform.
Registration for participation:
https://forms.gle/NyqaQz3Ta7tM6CpN7
The event is open to the media and the general public. There is no limit to the number of participants from one organization.

More information about the project can be found at: https://www.cemis.bg/ and https://magisterium.bg/bg/home/projects/bg0036/